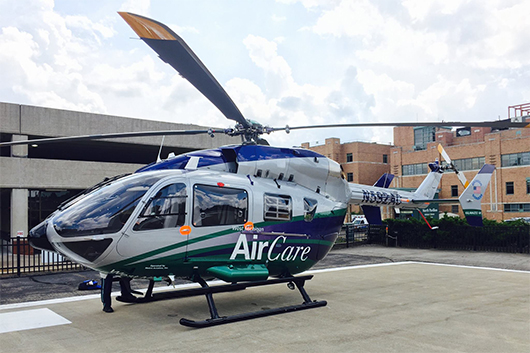 West Michigan Air Care
PO Box 50406
Kalamazoo, MI
Aircraft Type:
One: EC145e
Metro Client Since: September 2016
In March 1993, West Michigan Air Care (Air Care) became the first hospital based consortium air medical program in the United States. A cooperative program sponsored by Borgess Medical Center and Bronson Methodist Hospital, Air Care has been performing life saving missions to regional facilities and emergency agencies within a 75-mile primary and 100-mile secondary radius since its inception.
Air Care's patients are transported to receiving facilities offering a wide range of specialty care including but not limited to: Level I Trauma Centers; Cardiology; Neurology; Burn; High-risk Obstetrics and Pediatric.
Metro Aviation is constantly growing our capabilities and expanding our reach. Metro holds more than 30 Supplemental Type Certificates (STC) and completes about 35 aircraft each year for U.S. customers and global clients.