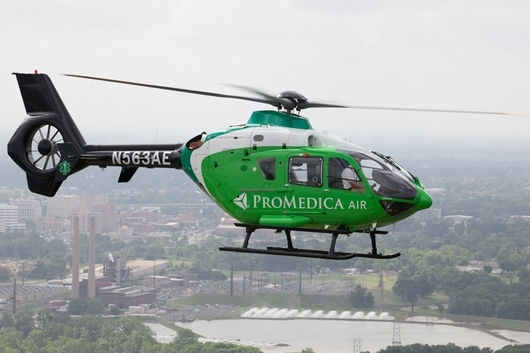 ProMedica Health System
11551 Airport Service Drive
Swanton, OH 43558
Aircraft Type:
Three: EC135 
Metro Client Since: August 2008
ProMedica Air and Mobile Transportation Network utilizes the Eurocopter EC135 in a multi-base operation. This powerful, light, twin-engine helicopter includes superior safety features and technological equipment, and is certified to the most modern standards for new helicopters.  The aircraft are instrument flight rules qualified and specially-equipped for day and night flight into most weather conditions. They can accommodate one or two pilots, up to three medical attendants and a critically ill patient.
Metro Aviation is constantly growing our capabilities and expanding our reach. Metro holds more than 30 Supplemental Type Certificates (STC) and completes about 35 aircraft each year for U.S. customers and global clients.